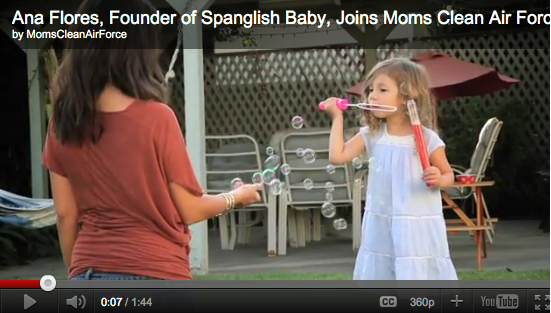 One of the best news I received while on my trip to El Salvador to celebrate the holidays was the announcement of the Mercury and Air Toxics Standards as a reality. Since April of 2011, Roxana and I  had been telling you about this 21-year in the making standards which the Environmental Protection Agency [EPA] had introduced in March.
We had never participated so actively with a cause as important as this one. Nothing can really collectively matter as much as clean air as we rely on it for our health and, most of all, for the health of our babies since their developing brains and immune systems are much more susceptible.
The new Mercury and Air Toxic standards, the first-ever national policy created to reduce mercury emissions from the electricity sector, is a victory which will cut mercury and other toxic emissions from coal-fired power plants.
I also received the surprise that a video which the Moms Clean Air Force produced last summer featuring my family and I had gone live. I love and will treasure this video because I speak from the heart and it showcases that which I love the most: mi familia and everything I will do for them.
Go here to watch more videos of moms like Blythe Danner, Ayelet Waldman, Christina Applegate and Maya Rudolph speaking up for clean air and urging all of us to join the Moms Clean Air Force. This one victory means the door has been left wide open for us to continue to march on. Please join us.
Many Moms Clean Air Force articles are also available en español.