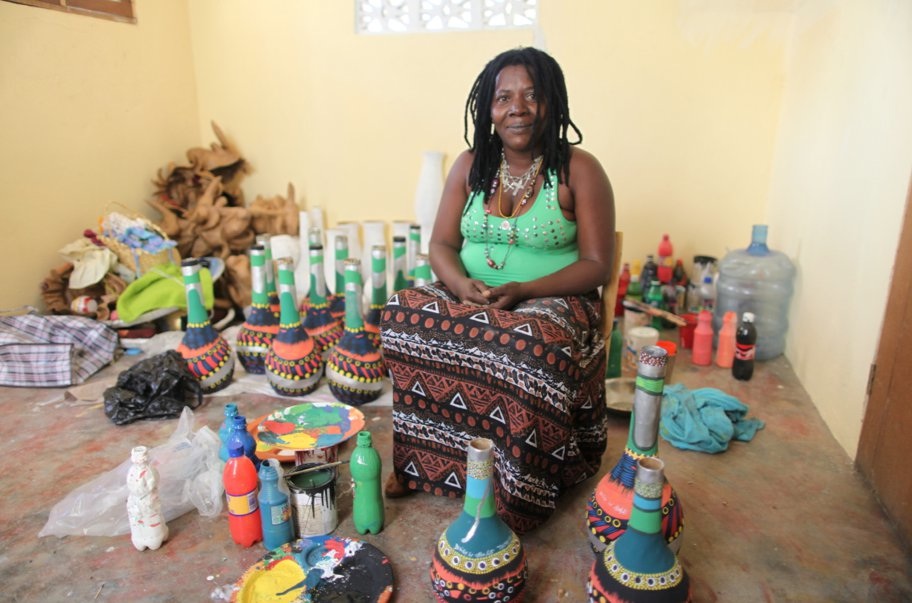 Two years ago today we stood still as we witnessed from afar the massive devastation which occurred in Haiti after a 7.0 magnitude earthquake shook its core.
Two years later, the nation is still rebuilding and progress is slow at best.
In less than two weeks I will be heading there with a group of enthusiastic women to witness for ourselves the life being led in Haiti today, as well as to see and document the work of sustainable aid being done through the Heart of Haiti initiative.
Heart of Haiti was born out of a partnership between Fair Winds Trading, Brand Aid & Macy's, Inc.. Conceived by lifelong artist/activist Willa Shalit (founder of Fair Winds Trading) and based on the principle "Trade not Aid", 'Heart of Haiti' sources artists from all over Haiti to develop and sell their works in over 25 Macy's storefront locations across the U.S. and on macys.com. The proceeds earned from the sale of their art dramatically improve the lives of these artists and their families giving them the ability to afford better nutrition, education and healthcare. And the craftsmanship and technique behind these works of art, ranging from papier mache vases to hand cut metal frames & wall hangings, is truly remarkable. The collection is made almost entirely from recycled and sustainable items such as old cement bags, cardboard, oil drums & local gommier wood. This is something we witnessed time and time again in Haiti; the practice of taking a pile of nothing and turning it into something beautiful.
I want it to be clear that to be part of this trip we were invited, but we had to fund the costs ourselves, receiving only a small percentage of the total cost as an incentive. I decided to invest in this experience because I´ve been a fan of Heart of Haiti for over a year now and truly believe that allowing people to grow creatively in the midst of pain to help themselves and their communities is where true empowerment lies. I want to be able to meet these artisans face to face, listen to their stories, touch their crafts as they are coming out of their soulful hands and then come back home and tell my family, as well as my SpanglishBaby familia all about it.
After watching this video from the first Heart of Haiti trip, you too will understand why I´m taking this leap…and want to take you virtually with me.
Can´t wait to come back and tell you all about it. Something tells me I won´t be the same after.
To stay up-to-date with news and announcements, follow @HeartofHaiti or like their Facebook page.
Disclosure: I am not being compensated for this post and the trip to Haiti is on my own dime, except for a small percentage given as a scholarship to help fund the trip.