One of the traditional drinks served during Mexican Posadas and Nochebuena dinners is a warm Ponche Navideño.  Our friend Maura Hernandez has a great recipe for Ponche on her blog The Other Side of The Tortilla.
However, if you feel like something a bit more different, or just adding one more warm drink to spike your holiday traditions, I suggest you check out Chef Marcela´s Warm Winter Margarita.  Chef Marcela, a Tijuana native and mom to a young bilingual, bicultural boy, shared this family recipe with us as part of a live Ladies Night In webcast, sponsored by Tequila Sauza.  She prepared many dishes and drinks we all got to taste and shared beautiful stories together of her Navidades with her family in México.The Warm Winter Margarita in particular is a drink that her mom used to prepare for Nochebuena, and now she´s holding on to and sharing the recipe.
So, if you´re looking for a last minute option to woo your guests, or just to enjoy with your marido, try out this simple recipe.
Warm Winter Margarita
Serves 4
Perfect for a cold day. This drink is full of flavor and makes the tequila blend smoothly.
Ingredients:
2 cups dried fruit of your choice
6 oz Sauza ® Silver Tequila

Method of Preparation:
Combine apple juice and cinnamon in a heavy pot. Bring to a boil, reduce heat, and
simmer for 10 minutes. Remove cinnamon stick carefully. Add sugar, dried fruit, and
tequila. Mix well. Serve warm.
Please let us know if you do prepare it and what reaction it got.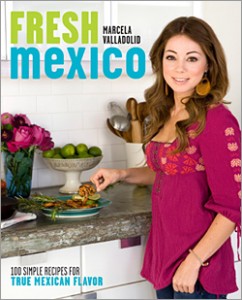 I highly recommend checking out Chef Marcela Valladolid´s Food Network show, Mexican Made Easy, as well as her Fresh Mexico cookbook, available in English and Spanish, for simple and healthy, yet tradition-packed recipes.
Disclosure: I was compensated to be a co-host of the live Ladies Night in LA webcast. No compensation was received for publishing this post. I just wanted to share this recipe!