Despicable Me just hit the stores in time for the last days of Holiday shopping, which is usually when you'll see me frantically getting it all done!
My girl didn't get to watch this one in theaters, but was definitely aware of the yellow "things," which now we know are called Minions, that were plastered all over billboards, buses and walls in our city.  So, as soon as she saw the Blu-ray/DVD combo pack cover she wanted me to put it on to have an impromptu movie night.  We had a great time laughing at the silly minions as they tried to find a unicorn for Agnes, the youngest of the three orphan girls, after Gru, the Villain and their Master, had pulverized hers.
Even the villain Gru had us laughing at his attempts to steal the moon. Wasn't easy to explain to my daughter why you really couldn't steal la luna, as hard as you tried.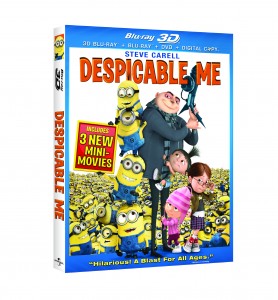 As we do with all DVDs that allow us to, we watched this one with the Spanish option.  I tried to get you a clip of the movie in Spanish to watch with your kids, but I found something better. This clip features one of Agnes' cutest moments. If you click on one of the flags on the top of the screen it will repeat the scene in the corresponding language. Very fun for our multilingual kids to explore!
THE GIVEAWAY!
This giveaway is now closed. Congratulations to the winner: Amy De Long!
We have one Despicable Me DVD to give away to one winner. To enter please tell us if you saw the movie in the theaters and what you liked about it. If you haven't seen it, just tell us why you want to win.
That's all you have to do to enter this giveaway. If you want to up your chances at winning, then this is how you can get additional entries (only after you've completed the step above):
**Please leave a separate comment for each so we can count them and avoid mistakes.
1. Subscribe to our feed via email or RSS and leave us an extra comment letting us know you did so or that you're already a subscriber. Make sure to leave the comment using the same email you subscribed with.
2. Follow us on Twitter and tweet about this giveaway including a link to the post and @SpanglishBaby. Copy the link to the tweet in an additional comment on the giveaway's post.
This giveaway ends Sunday, December 26 at midnight EST and you must have a valid US address to enter.
Disclosure: We received a sample to review the product.  All opinions are our own.