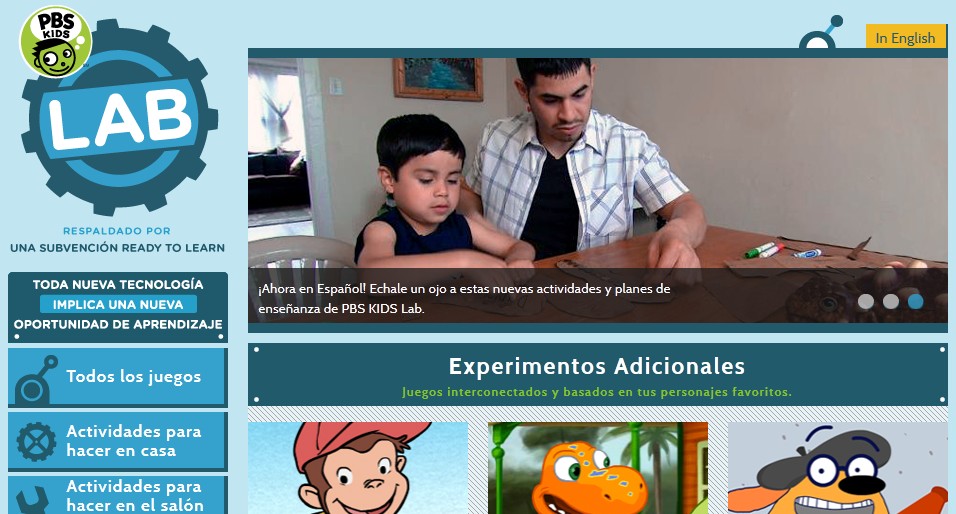 PBS KIDS Lab is a free website from our friends at PBS Kids which offers "more than 50 cross-platform games designed to help children ages 2-8 build critical math skills." – Now PBS has announced the addition of bilingual translations of parental instructions and resources, activities, and a new blog series with content related to kids and media.
Start out at the PBS Kids Lab in Spanish and from there you can navigate the site.
Click "Todos los juegos" and you'll be taken to the game page where your child's favorite characters, such as Curious George, await. While actual game play is still in English, the games are organized into categories such as "habilidades", "edad", "dispositivo" and "programa." Each game also includes a description and the objective written in Spanish.
The "Actividades para hacer en casa" button will take you to crafts and activities to do at home while the "Actividades para hacer en el salón de clase" page is designed for classroom and group activities. Both pages include complete and comprehensive directions in Spanish.
Another great page is their Ideas to Go page – ("Ideas para el camino"), which features over 50 creative ideas on how to incorporate math into your niño's every day life, whether you're in the bathtub (durante el baño) or at the zoo (en el zoológico.)
My favorite part of the website was the encouragement offered on the "Actividades Caseras" page:
I think a lot of women and mothers out there are like me – they're used to thinking of themselves as being "bad with numbers" – but just because math isn't necessarily your best subject, doesn't mean you're incapable of teaching your kids what you do know, and you can even have a little fun while doing it, too.
For more about PBS Kids Lab in Spanish, visit their about page. PBS and the Corporation for Public Broadcasting (CPB) are partners on this project, which is part of the Ready To Learn Initiative, a U.S. Department of Education-funded effort that aims to help kids build the skills they need for school success.