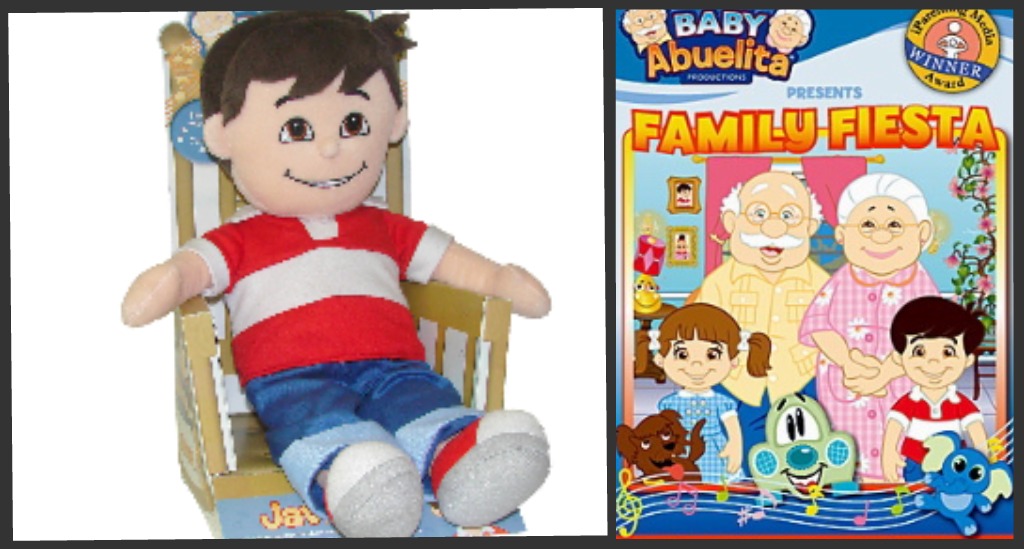 When Javier arrived at my door, I was curious to see what my son would do. I pulled this adorable little doll out of the box and Isaiah smirked. He seemed curious,but confused, until I squeezed Javier's hand and he started singing a familiar song:
"Había una vez un barquito chiquitito…."
That was all it took for my boy to become a fan of dolls.
Javier, the latest in the line of plush dolls from Baby Abuelita Productions, sings five well-known songs, including "Los Pollitos Dicen," and "Campanitas." With his creative hair-do, matching outfit, and musical talent, Javier quickly wins over any Spanish-speaking child.
I love that there are male and female dolls available because it encourages imaginary play for both genders. My son talks to Javier (in Spanish, of course) and shows him all of his other toys. Although he cannot replace real friends, Javier supports the idea that many people – specifically children – speak Spanish and that it's "cool." Javier has yet to go everywhere with us, but he has made a trip to the grocery store and the bank. I imagine he will soon be going down the slide at the park and will ultimately be a long-time amigo.
In my eyes, the best thing about Javier and Baby Abuelita's other products is their authentic accent. I have had very bad luck in the past finding Spanish-language or bilingual toys with accurate audio. Javier's songs are short and sweet, and the fact that there are five of them provides enough variety that parents won't go crazy, and enough repetition that kids will quickly pick up on the words.
If you have a boy or girl who has entered the imaginary play phase (two to three years old) or simply loves traditional Spanish songs, I highly recommend adding Javier and his family members to your child's toy box.
THE GIVEAWAY!
Congratulations to the winner:  Vanessa Delgado!
We have a Javier doll and a "Family Fiesta" DVD to give away to one lucky winner. To enter, please visit the Baby Abuelita site and tell us which of the five songs Javier sings is your child's favorite.
That's all you have to do to enter this giveaway. If you want to up your chances at winning, then this is how you can get additional entries (only after you've completed the step above):
**Please leave a separate comment for each so we can count them and avoid mistakes.
1. Subscribe to our feed via email or RSS and leave us an extra comment letting us know you did so or that you're already a subscriber. Make sure to leave the comment using the same email you subscribed with.
2. Follow us on Twitter and tweet about this giveaway including a link to the post and @SpanglishBaby. Copy the link to the tweet in an additional comment on the giveaway's post.
3. Blog about this giveaway making sure to include our link, and you'll get TWO additional entries.
This giveaway ends Sunday, November 21 at midnight EST and you must have a valid US address to enter.
Disclosure: A sample product was provided for review purposes; all opinions are 100% ours. Check out our full Disclosure + Privacy Policy. If you click on a link above and it takes you to La Tiendita and you purchase a product, we will hear pennies fall in el cochinito.
Check out the Giveaway Rules.