Yesterday´s news about the quakes in the Washington area (the strongest one ever recorded in D.C.!) me hizo ponerme las pilas and I remembered this coloring book that Ashley Alvarado, from California Watch, had sent me some months ago and I never got the chance to share with you. It´s time.
Growing up in a land like El Salvador where Earth always rumbles doesn´t quite mean you´re always prepared for an earthquake emergency. In fact, we were so used to the shaking that we were a bit naive and just took it as a fact of life.
I still live in an earthquake-prone area, now in California and I need to start explaining to my four year old what an earthquake is and how to react to one when it happens.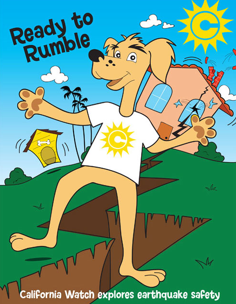 Ready to Rumble is a coloring and activity book available for free download (just click on the image above and it´ll take you to the download page) in four languages, Spanish included. It´s a fun way to teach kids the serious facts about earthquakes and how to stay safe when the earth starts to shake, especially when they are in school.
From the looks of it, this coloring book needs to reach the little hands of kids beyond earthquake-prone California.
Have you been in an earthquake? Do your kids know how to be prepared and safe during one?