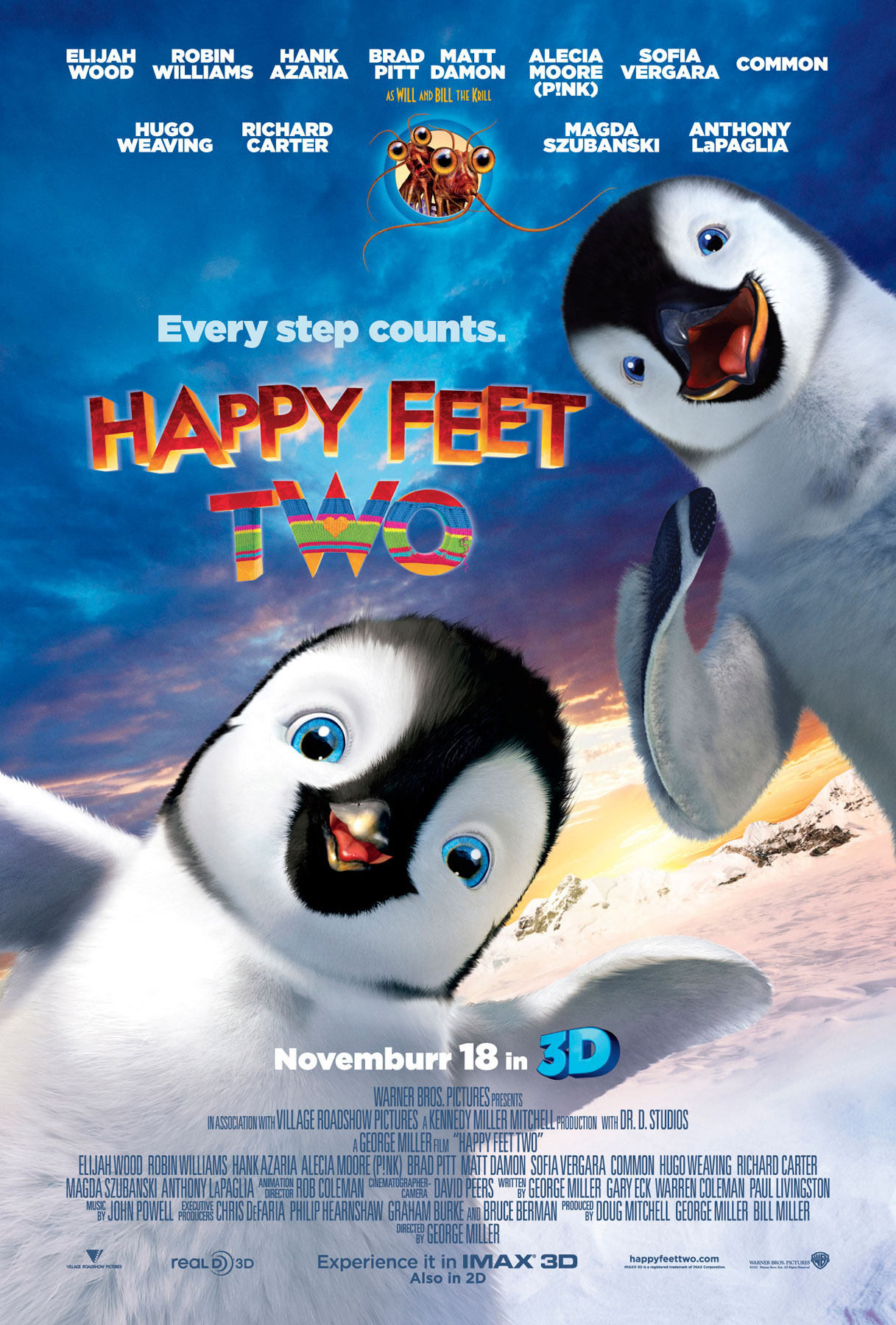 The sequel to Happy Feet splashes into theaters on November 18 returning audiences to the world of Antarctica and dancing penguins.
We once again join our hero, "tap-master" Mumble, who now has a son named Erik. Unlike his light-footed father, Erik is reluctant to dance and runs away. Shortly thereafter, he encounters a charismatic penguin named Sven, who can fly. As Mumble competes for his son's attention and admiration, their world is turned upside down by powerful forces. Erik begins to see Mumble's abilities as a leader as he brings together the penguin nations to fix their problem.
We want to invite one of our L.A. area readers, along with three of their family and/or friends, to be amongst the first to view Happy Feet Two in 3D as part of the exclusive audience at the star-studded Red Carpet Premiere happening this Sunday, November 13 at 12:30 p.m. at the famous Grauman´s Chinese Theatre in Hollywood! 
That means one of our fabulous readers could potentially be sitting in the same theater with some of the stars from the movie like Elijah Wood, Robin Williams, Sofia Vergara, P!nk, Hank Azaria, Matt Damon or even Brad Pitt! We don´t have a confirmed list of the stars who will be there, but the possibilities are more than enough!
Check out the trailer here and then click on the link below to enter the giveaway. If you don´t live in or near LA, but know friends and/or family that do, please do share this link with them via email or Facebook and invite them to participate as well! Too good to pass up.
httpv://www.youtube.com/watch?v=QW__8xh3Ozc
Like Happy Feet Two on Facebook for some great treats!
The Giveaway!
This giveaway is now closed. Congratulations to the winner: Eva Smith !
One winner will take one family 4-pack of tickets to the Happy Feet Two Red Carpet Premiere in Hollywood, CA (tickets only, no travel, meals or accommodations). Winner must be available to attend this Sunday, November 13 at 12:30 p.m. and passes are non-transferrable. Tickets will be picked up at will-call the day of the event. Please do not enter if you´re not sure you´ll be able to make it.
To enter all you have to do is leave a comment telling us who your favorite Happy Feet character is and who you´d like to see at the Premiere.
That's all you have to do to enter this giveaway. If you want to up your chances at winning, then this is how you can get additional entries (only after you've completed the step above):
**Please leave a separate comment for each so we can count them and avoid mistakes.
1. Subscribe to receive blog updates and subscriber-only content via email and leave us an extra comment letting us know you did so or that you're already a subscriber. Make sure to leave the comment using the same email you subscribed with.
2. Follow us on Twitter and tweet about this giveaway including a link to the post, @SpanglishBaby and the #HappyFeetTwo hashtag. Copy the link to the tweet in an additional comment on the giveaway's post.
Sample tweet:  Visit @SpanglishBaby for a chance to win tickets to star-studded #HappyFeetTwo Red Carpet Premiere in Hollywood! http://su.pr/1uk441
3. Like SpanglishBaby on Facebook and join a thriving community of parents.
This giveaway ends Thursday, Nov. 10th at midnight PST and is open to everyone over 18 years of age in the continental U.S. Travel not included. Check out the Giveaway Rules.