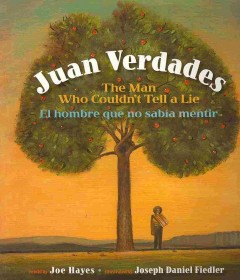 As a lover of legends and folktales, I am excited to start sharing longer, more complex stories with my growing son. Juan Verdades: The Man Who Couldn't Tell a Lie is a perfect book for the transition from simplistic children's stories to intricate tales with more than one character.
In this beautifully illustrated book, a ranchero (Don Ignacio) makes a bet that his capataz – ranch hand – is incapable of telling a lie, which is why he trusts him with his valuable apple tree. A skeptical friend, Don Arturo, tries desperately to cause the capataz, whom they call Juan Verdades, to stray from the truth so that he can win Don Ignacio's ranch. Complications arise when Don Arturo's daughter and Juan Verdades fall in love. In the end, the story comes full circle: la verdad reigns and no one loses.
Originally a Spanish tale from the early 2oth century, Juan Verdades is retold by Joe Hayes in a way that is easier to follow than traditional folktales. Like other bilingual books, this one has the full English and Spanish prose on each page, making it simple to understand, no matter your level in either language. The flow of events and gorgeous paintings hold even a young child's attention.
Read Juan Verdades to yourself to learn new Spanish vocabulary or share it with children of any age. Visit La Tiendita to order your copy of this quality bilingual book.
THE GIVEAWAY
We're giving away a copy of Juan Verdades: The Man Who Could Tell a Lie. To enter this giveaway, please share with us the name of your favorite folktale or legend.

This giveaway ends at midnight EST on Monday, June 27, 2011. Entries/Comments that do not follow the submission guidelines will be invalid and automatically deleted. Sorry, just need to keep it fair. Good luck to all!
Check out the Giveaway Rules.